The Week of Pentecost – Monday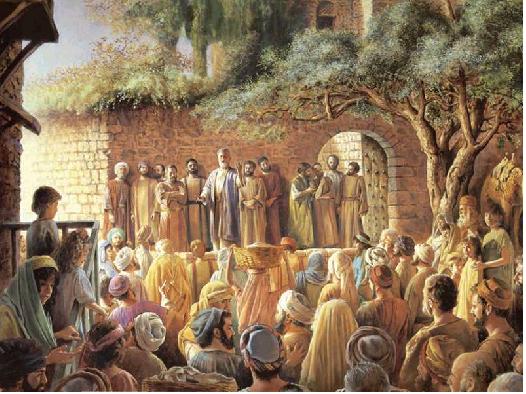 Therefore let all the house of Israel know assuredly that God hath made that same Jesus, whom ye have crucified, both Lord and Christ. – Acts 2:36.
While the devout men marveled at the miraculous outpouring of the Holy Ghost, and the scoffers were scoffing, Peter arose with the eleven.  And the fire of the Holy Ghost, working through God's Word, burned in their hearts and on their lips, as well as visibly on their heads.  And Peter said: "Ye men of Judea, and all ye that dwell at Jerusalem, be this known unto you, and hearken unto my words; for these are not drunken, as ye suppose, seeing it is but the third hour of the day" (Acts 2:14-15).  And then he delivered a powerful sermon, which you may read in this second chapter of the Acts (vv. 16-36).  First he showed that this outpouring of the Holy Ghost had been foretold "by the Prophet Joel" (v. 16), who said that it would occur "in the last days" (v. 17a), that is, after the Messiah had come (Joel 2:28-32).  And then, yes, then He showed that "Jesus of Nazareth, a man approved of God among you by miracles and wonders and signs" (Acts 2:22), but "crucified and slain" (v. 23) by them according to the counsel of God, had risen from the dead (vv. 24 and 27), as the Scriptures (Psalm 16:10) had likewise foretold of the Messiah.  "Whereof we all are witnesses" (Acts 2:32), said Peter.  And then he showed them that the risen Lord, after He had been exalted to "the right hand of God" (v. 33a), according to the prophecy of Scripture concerning Christ, the Messiah (Psalm 110:1), had "shed forth this which ye now see and hear" (v. 33b), that is, the Holy Ghost, attended by wonders and great signs, as again foretold by Joel for the time of the Messiah.  And most impressively Peter said, in closing: "Therefore let all the house of Israel know assuredly that God hath made that same Jesus whom ye have crucified both Lord and Christ" (v. 36).  St. Paul would later write to the Romans that Jesus' resurrection was the Father's ultimate testimony that He was, in truth, "the Son of God with power" (Romans 1:4).  And immediately the Holy Ghost proved His power upon the hearts of the hearers: "when they heard this, they were pricked in their heart" (v. 37a).  Note that this outpouring of the Holy Ghost after Jesus' ascension proves that Jesus is the Christ promised in the Old Testament, for all of this was to happen in the days of Christ.  And note also that the Holy Ghost works through the preaching of the Word, first of all to "reprove the world of sin, and of [a lack of] righteousness, and of judgment" (John 16:8; see also vv. 9-11).  Tomorrow we shall see what followed, namely that the Spirit also worked through Peter's Gospel message to create and sustain saving faith in the hearts of his hearers.  So, for us as well, the Spirit works through both the preaching of the Law to convict us of our own unrighteousness, and also through the Gospel to give us the true righteousness of Christ, our crucified and ever-living Savior.  May we always continue to diligently use this powerful Word!
PRAYER. – Lord God, heavenly Father, who, out of Fatherly love toward us poor sinners, did give us Thy Son, that we should believe in Him and through faith receive our justification and our salvation, I pray Thee, let Thy Holy Spirit, through Thy precious Word, remain in my heart, that I may continue and endure steadfast in such faith to my end, and enjoy forever the wonderful gift of everlasting life, through Jesus Christ, my dear Lord and Savior.  Amen.
We now implore God the Holy Ghost for the true faith,
which we need the most; that in our last moments,
He may befriend us and, as homeward we journey, attend us.
Lord, have mercy.
—
Shine in our hearts, O most precious Light;
that we Jesus Christ may know aright; clinging to our Savior,
whose blood hath bought us; who again to our homeland hath brought us.
Lord, have mercy.
(TLH) – Hymn 231, 1, 2: